UNFORGETTABLE MOMENTS
AT LA ESPERANZA GRANADA
We offer you the most memorable private cultural experiences
INTIMATE FLAMENCO EVENING IN OUR COURTYARD 
And at night comes the best: a more intimate and real flamenco evening
than that of a zambra or a tablao. Don't even think about going to sleep.
El Pais, February 2022
Experience the purest flamenco right in our hacienda. Amidst the backdrop of our spectacular courtyard, inspired by the Alhambra, we arrange dramatic performances by some of the best flamenco dancers and musicians in Andalucia while you prepare traditional tapas prepared by our private chef.
These are perhaps some of the most exclusive cultural experiences in Granada.
ASTRONOMY SESSION
TO SEE THE PLANETS AND THOUSANDS OF STARS 
A personal recommendation? Don't miss the astronomy evening under the stars.
National Geographic Traveler, September 2021
The astronomical experience is one of our most popular experiences because the skies are simply beautiful from our property. Our stronomers are also very good storytellers, so even those who are not interested in the stars fall in love with the stories. They bring one of the largest portable telescopes in the world so guests can see Venus, Saturn and the craters of the moon with their own eyes.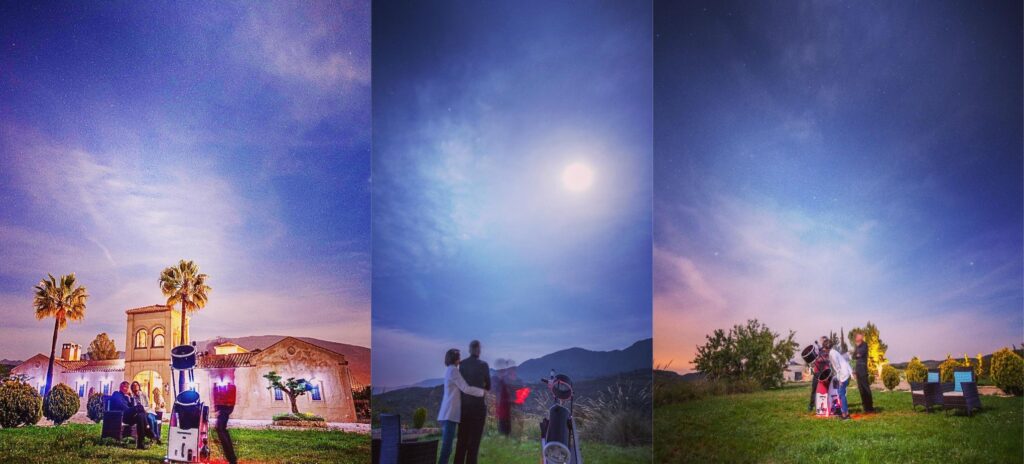 MAGICAL EVENINGS WITH THE SPANISH GUITAR 
Fill your nights with music as our romantic hacienda is the perfect backdrop for the soothing sounds of the Spanish guitar. A classical Spanish guitarist will perform the beautiful songs of Andalucia, as well as of famous Spanish composers, just for you in our Alhambra-inspired courtyard, your private terrace, by the fireplace, or in the gardens.
INTERACTIVE PAELLA COOKING CLASS
Our in-house chef will teach you how to prepare Spain's favorite dish in our spacious hacienda-style master kitchen. You will learn everything from the authentic ingredients required for a tasty paella to the cooking techniques for creating the burnt rice effect that sets a great version apart from all the others.
Afterwards sit down at the kitchen table and enjoy your own cooking for a real gastronomic experience.
TENNIS COACHING & PLAYING PARTNER
Our English-speaking tennis professional is an excellent teacher for players of all ages and levels. He also makes a great playing partner for guests who do not wish to book lessons. Playing on the La Esperanza Granada tennis court, with its amazing views of the Sierra Nevada mountains, is an exhilarating experience in itself.
Oftentimes a wonderful trip revolves around the people you meet. 
We offer you opportunities to experience real Andalucia hospitality. Our guests can visit the homes of couples and families who trace their roots in Granada back many generations and enjoy a meal or an afternoon with them — whether it is a gastronomic lunch with a stylish couple in their well-appointed apartment in the city, paella with a family in their farm with a view in the next town, or a barbecue with a a multi-generational clan.  
Learn about the real Spain via this most memorable way.
Advance arrangements required. Subject to schedule availability.
CALLIGRAPHY & WATERCOLOR TUTORIALS
Even for a few hours or for several days, experience the joys of another world by learning the ancient art of calligraphy and watercoloring from one of Granada's foremost calligraphers and illustrators. Take this skill back home with you so that you can create your own greetings cards, invitations, journals and much more. This session is applicable for adults and children from the ages of 12 and above.
YOGA & MEDITATION SESSIONS
The amazing peace and nature of La Esperanza Granada is the perfect backdrop for a session of yoga at any level a followed by meditation. Book a morning or afternoon session in advance as a gift to yourself or for your loved ones. This can be just one session or a series of sessions during your stay with us.
Whether you want to learn to speak like a native or you just want to navigate restaurants and shops with ease whenever you visit Spain, our family-friendly English-speaking language teacher will help you achieve your goals. The fact that you get to review your Spanish vocabulary, verbs and pronouns by the pool or in the garden with the stunning Sierra Nevada as a backdrop is icing on the cake. 
Comments